Recreational opportunities in the Northern Rockies are virtually limitless. Teton Reserve will serve as your base camp to access all of the fun and beauty that Teton Valley has to offer. Known for the breathtaking scenery, endless amounts of outdoor adventures and close proximity to National Parks, the Tetons have become one of the top travel destinations for outdoor enthusiasts. The Teton Valley plays host to thousands of miles of hiking, biking and motorcycle trails which can lead your family on incredible scenic and wildlife adventures. 
Reconnect with nature and loved ones while hiking, backpacking, mountain biking, river rafting or even skiing in an inspiring background. Explore the depth of Yellowstone National Park or spend a day golfing at one of four golf courses at Teton Reserve. Whether you are looking to make the most of summer weather on the river or winter's fresh powder on the slopes, Teton Valley has activities to keep you entertained all four seasons.
National Parks
Grand Teton National Park
Grand Teton National Park is home to one of the most recognizable mountain landscapes in the world. This park is located in Northwestern Wyoming, a short drive from Teton Reserve. Spectacular landscapes, pristine lakes, and extraordinary wildlife are preserved in this national park. Grand Tetons world-renowned scenery attracts nearly four million visitors per year.
Yellowstone National Park 
Yellowstone National Park is America's first national park. This national park stretches across multiple states; Wyoming, Montana, and Idaho. Known for it's abundance of wildlife, Yellowstone is home to wolves, grizzly bears, bison, elk, and many other species of wildlife. Preserved within Yellowstone National Park is the most popular geyser in the world, Old Faithful and a collection of the world's most extraordinary geysers and hot springs, and the Grand Canyon of the Yellowstone.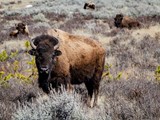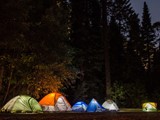 Camping
Your idea of a perfect camping trip depends on your personal point of view. To some it might be a remote site in the wilderness of Grand Teton National Park, with no amenities and few other campers. To another it might be a put-in with an RV hookup, or running water, showers, and flush toilets. We put together a list of suggestions that are sure to impress!
Many campgrounds operate on a first-come, first-served basis; meaning advance reservation are not accepted. Before heading out on your trip its important to do the research and have a back up plan in the event your campground destination is booked out!
Headwaters Campground and RV sites at Flagg Ranch
Mountain Biking
Explore the Teton Valley regions longest, and most diverse trails systems for epic mountain bike riding; you'll have to decide on your own which trail is the best riding to be had as you dive in to the wild west of mountain biking. Grand Targhee Resort, Snake River Range, and the Teton Range will offer you riding experiences you will never forget. Between the expansive list of mountain biking locations in the Teton Valley there is something for every style of riding for every level of mountain bike rider in both winter and summer. For more information on each of these bike parks or to report the current riding conditions please visit the links below.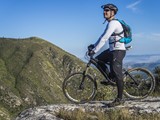 Hiking & Backpacking
Teton Valley offers striking views, an abundance of wide open space, not to mention the hiking options are endless. Experience the wilder, western side of the range with some hiking in Teton Valley, Idaho during fall before the roads get icy. This is the prime time for an adventure, as fall colors are bright and the crowds have largely dissipated this time of year. Try these favorite Teton Valley trails to get a taste of the less-packed side of the Tetons.
Cycling & Road Bikes
Teton Valley has several scenic road rides along with its popular mountain biking trails. Many of the roads in the valley are suitable for riding as they generally have low traffic volumes. The Teton Valley is too beautiful to just drive though and there are a myriad of ways you can explore this incredible area more closely. Nearly all the gateway communities surrounding Yellowstone connect to Yellowstone and Grand Teton National Parks via designated Scenic Byways and are all gorgeous bicycle tour routes the provide a plethora of camping and other recreational opportunities
Wind River Canyon Scenic Byway
Buffalo Bill Cody Scenic Byway
Wyoming Centennial Scenic Byway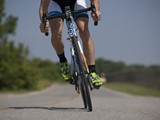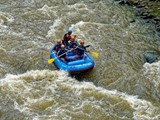 White Water Rafting & Scenic Floating
Nothing beats a whitewater rafting adventure for escaping the summer heat. Although there is no rafting inside the National Parks, the waterways surrounding the Yellowstone National park offer up everything from lazy floats to intense rapids—pleasing everyone from kids and grandparents to adrenaline junkies.
Snake River in Jackson Hole, Wyoming
The Snake River offers both whitewater and mellow scenic float trips on the Snake River.
Guide Options:
Yellowstone River near Gardiner, Montana
The Yellowstone River winds for almost 700 miles through some of the park's most stunning scenery and is great for families.
Guide options:
Montana Whitewater Rafting and Zipline Company
Fly Fishing
Throughout Teton Valley you find a number of rivers, creeks, and streams that offer access to some of the world's best fishing waters. If you are looking for a fly fishing vacation, then Teton Valley is your spot. You'll also find unmatched scenery and exceptional wildlife viewing opportunities. The South Fork of the Snake is insanely gorgeous with enough trout to fill any fly fisherman's net. The Teton has so many different types of water, from spring creek to rushing rapids.Some fly fisher's seem to favor a stretch called Bitch Creek, where fish average about 14-18 inches. The Teton traditionally fishes well and often times during the summer it may be the only river in the area where fish are rising.  More impressive is the fish always seem to be breaking water when feeding on flies during morning and evenings.  The Teton is an excellent fishery and many anglers fish this river over some of the higher profile tributaries in the area for obvious reasons.
World class fly fishing on various tributaries to the Snake River, including:
The South Fork of the Snake River
The Teton River
Henry's Fork of the Snake River
The Madison River
Island Park, world famous sections like "The Box" and "Harriman Ranch" have been pulling fly fishermen back to our corner of Idaho for a hundred years.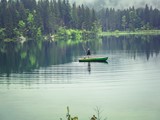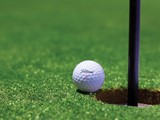 Golfing at Teton Reserve
Considerable time and effort went into the creation of the nation's first and only 18 hole reversible championship golf course. With the reversible aspect, Teton Reserve is home to 4 different 18 hole courses.
Hale Irwin, the current career wins leader on the Senior PGA Tour, has designed a course that is challenging to the seasoned golfer but yet forgiving to the beginner. Coupled with our double ended, 500 yard, practice facility our golf course is beginning to draw a national buzz.
(Although the golf course is an HOA amenity golf passes are additional to Teton Reserve residents.)
Get more info about the golf course at their website, and link to their website from our website - https://www.tetonreserve.org/.
Nordic Skiing
Cross country ski beneath the majesty of the heart of the Teton Range when the winter rolls in. Teton Valley is one of the top places for winter vacations activities in the country featuring an overabundance of fresh snow and incredible views. Yellowstone has miles of trails for the adventurous skier and snowshoer. Whether you are skiing a groomed trail in a developed area or venturing into the backcountry, remember that you are traveling in wilderness with all its dangers: unpredictable wildlife, changing weather conditions, hydrothermal areas, deep snow, open streams, and avalanches. Nearly all of the unplowed roads in Grand Teton National Park become cross-country ski trails during the winter. However, some areas are closed to protect wildlife. Check with local Park Personnel to plan your route.
Five groomed Nordic Trails provided by Teton Valley Trails and Pathways
Alta Nordic Trail
Driggs Nordic Trail
Sherman Park (formerly Pioneer Park In Victor)
Teton Canyon
Teton Springs Trail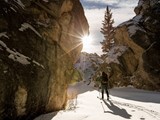 Soaring Over the Tetons
Take a scenic ride overt he Teton Mountain Range and the valley of Teton County to experience the regions beauty with a whole new perspective. Enjoy a guided tour of the mountains, canyons and lakes of the Teton Range and Teton Valley, Idaho with Teton Aviation.  Their knowledgeable pilot will point out the Grand Teton Cathedral Group, Yellowstone National Park, Grand Targhee, Jackson Hole Aerial Tram, Table Mountain, Mount Moran and up to seven mountain ranges if the conditions are right!
Cost: $350.00 per flight plus tax - Approximately 1 hour flight
Gratuity is not included but appreciated
1 or 2 passengers
Maximum weight for 2 passengers is 450 lbs
Maximum single passenger weight is 250 lbs
Minimum age is 10 without an adult or 6 with an adult.
Bring a camera and sunglasses