We would like to invite you to celebrate our artistry, cultural diversity and the human spirit with all the festivals and events that Idaho and Wyoming has to offer! Come for the outdoor adventures and scenery but stick around for unforgettable experiences. Teton Valley is known for the endless outdoor recreation but the events are quickly becoming a beacon for visitors throughout the year. People visit Idaho from all over the world to attend music festivals, snow sporting events, and a variety of cultural events. Teton Valley has a very diverse culture and what a better way to express the art of our heritages than to host incredible festivals and events. 
If you're planning a trip to Teton Valley to hit the slopes or visit Yellowstone National Park, be sure to look up what events are happening while in town! Heading towards Grand Targhee? Take a pit stop at Teton Reserve, home to 4 different 18 hole golf courses (one of them reversible!). Teton Valley is full of events and festivals both big and small, here are a few of the festivals that happen throughout the seasons.
Winter Events & Festivals
Snowscapes 
Snowscapes is organized by the Downtown Driggs Community Association in collaboration with Teton Arts. This juried national competition connects artists, visitors, and residents in a creative space to discover the beauty of Teton Valley's greatest amenity: SNOW. The event is free to the public.
Backcountry Film Festival
Ring in the first week of the new year on January 3rd with the Backcountry Film Festival from Winter Wildlands Alliance. This is a local's favorite! Celebrate and get inspired for your next human-powered winter adventure.
Pedigree Stage Stop Sled Dog Race
Largest sled dog race in the lower 48! The Driggs stage hosts two dozen sled dog race teams on a 32-mile race through the Big Hole Mountains. Racers leave the west end of 4000N at 3-minute intervals, starting at 9am and then return to the same location to finish.
Annual Teton Surf Classic
Turn, pump, glide, slash, and ride transition. The 2019 Teton Surf Classic blew the doors off and exceeded all expectations. This year we're turning up the heat as the Park Crew resets the North Pole Terrain Park for another surf/skate inspired, snowboard-only event scheduled to run March 28th – 29th.
Annual Cardboard Box Derby at Grand Targhee Resort
This is not a race! There are no points for speed. A panel of judges will rate each craft for originality, costumes, and construction. Of course you also need to finish with all your team members on board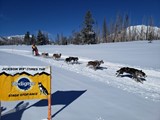 Spring & Summer Festivals
Targhee Fest is about great music, the culture and lifestyle of the mountains, great food and drink, the spirit of sustainability and the hospitality that resides in this jewel of a resort. Started in the summer of 2005 to draw on the musical spirit that exists under the shadows of the majestic Teton Mountains, Targhee Fest is the ultimate all-around mountain lifestyle and music festival in the Rockies.
Annual Teton Valley Balloon Rally 
Hot air balloons launch from the Teton County Fairgrounds in Driggs, Idaho just after sunrise each morning. This grand tradition is a unique and awe-inspiring way to celebrate the July 4th holiday.
Wydaho Rendezvous Mtn Bike Festival 
The Wydaho Rendezvous Teton Mountain Bike Festival is a weekend of mountain biking activities that will cater to all levels and kinds of riders with hundreds of miles of sweet singletrack trails, bike demos, skills clinics, live music and entertainment. Locals call it "Wydaho" meaning the Wyoming/Idaho border
Plein Air Art Festival in Driggs  
Over 75 professional and emerging artists from all over the country set up their easels outdoors to paint the scenery in Driggs and Teton Valley. Hundreds of paintings of local scenes are featured for sale at the Driggs Plaza throughout the week. 
Grand Targhee Blue Grass Festival 
Targhee Bluegrass is the Grand Daddy of Bluegrass Festivals in the Northern Rockies, combining great Bluegrass with the ultimate mountain lifestyle. 
Professional live outdoor theater performance on the plaza in downtown Driggs. Presented by "Shakespeare in the Parks", a nationally recognized outreach program of the College of Arts and Architecture at Montana State University.
Fall Events & Festivals
Annual Jackson Hole Fall Arts Festival 
The Fall Arts Festival has become the premier cultural event of Jackson Hole and attracts hundreds of nationally and internationally acclaimed artists who embody the spirit of the West
Snow King Mountain Oktoberfest
Beer from 15 regional breweries; live music; BOGO on all mountain activities. $25 ticket includes Snow King 80th Anniversary pint glass, 4 beer tokens and Cowboy Coaster ride; 5-8 p.m.
Oktoberfest at Grand Targhee Mountain Resort 
Welcome the fall season with a day of beer, brats, games, a classic car cruise-in, family fun and more at Grand Targhee's 4th Annual Oktoberfest 
Annual Frank's Fall Film Festival 
Through Oct. 17 at the Jackson Hole Twin Cinema. To celebrate the unique magic and emotional power of the movies, 13 films have been carefully selected, such as The Peanut Butter Falcon, Honeyland, Apocalypse Now Final Cut, The Farewell, Maiden and Wild Rose.
Grand Teton Music Festival presents Community Concerts
The second Friday of each month from October to April - These free concerts take place from 7-10 p.m. at St. John's Episcopal Church and spotlight professional musicians who call the Mountain West their home.
Holiday carols, cookies, cocoa and Santa Claus. The event—held from 5 to 7 pm.— is truly a sight to behold!