Discover Art in Teton Valley
Book tickets to the Grand Teton Music Festival and National Museum of Wildlife Art to experience art and culture in Teton Valley and Jackson Hole. The Teton Valley is home to an array of world class museums and fine arts for every type of person.  During the summer months, the Teton Valley Foundation sponsors Music on Main, which is a free, weekly concert series in the Victor City Park. Savor the history of Eastern Idaho by visiting area museums.
Along with galleries and museums the Teton Arts Council is working diligently to bring the world of art to Teton Valley through classes, workshops, and after school programs. Teton Valley continuously supports the art community in a variety of ways and is striving to keep artists inspired to do what they love by creating sanctions specifically for artists. The state of Idaho has some of the greatest art cultures around filled with talented artists, galleries and museums for all to enjoy.
National Museum of Wildlife Art
Founded in 1987, The National Museum of Wildlife Art holds more than 5,000 pieces of artwork showcasing wild animals around the world from 2500 B.C. to today. Built into a hillside overlooking the National Elk Refuge, this beautiful museum is a sought after destination,  welcoming 60,000 visitors through its doors each year. The Idaho quartzite exterior of the 51,000 square foot museum was inspired by the ruins of Slains Castle in Aberdeenshire, Scotland. Andy Warhol, Georgia O'Keeffe, John James Audubon, Robert Kuhn, and Carl Rungius are just a few of the prominent artists with work featured in this museum. In addition to 14 galleries, this attraction boasts a museum shop, interactive children's discovery gallery, restaurant, library and an outdoor sculpture trail. Located only two miles from the gateway of Grand Teton National Park, this can be an addition to a day trip or an exploration all on its own.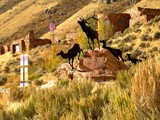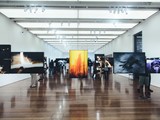 Teton Reserve Recommendations